Drain Cleaning Services in South Kansas City
Kevin Ginnings Plumbing Service, Inc is ready to tackle the toughest jobs in plumbing to keep your home from sustaining the kind of expensive water and sewer damage that occurs because of blocked pipes and drains. Indoors and out, we'll help you manage your drainage system with professional drain cleaning when your normal household solutions just don't do the trick anymore. Call our mobile team for responsive service in Harrisonville and throughout South Kansas City.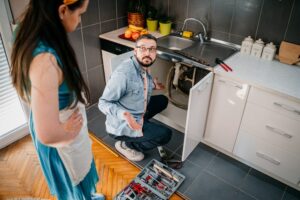 What kinds of drains do we clean?
We specialize in clearing all drains! Whether the blockage is in your kitchen, bathroom, or basement, we can handle any drain issue using advanced tools and technology to get to the root of the problem fast. Call us for:
Kitchen drains
Bathroom sink drains
Bathtub drains
Shower drains
Mainline drain cleaning
Floor drains
Clogged toilets
Sewer drain cleaning
Specific drain cleaning services
Why it's important to fix a clogged drain right away
It's tempting to leave a clogged sink or drain and hope the water will slowly flow on its own, but even if it does, you haven't solved the problem. In fact, the standing water in your sink or somewhere in the pipes could lead to leaks and serious water damage that costs thousands to repair in the event of a flood in your home or in your yard. Save yourself a real headache (and your bank account) by contacting a professional team to handle sewer and drain cleaning on a much deeper level than you can by yourself. Kevin Ginnings Plumbing Service, Inc uses drain snakes, industrial cleaners, and other specialty tools to get the job done completely and quickly.
We're completely equipped to clean all drains, showers, toilets, and sewers, including yard drains. You name it, and our drain cleaning pros in Kansas City and Harrisonville can clean it. We'll spot the problem with tiny digital video cameras to make the necessary repairs and check for leaks. Throughout our more than 30 years of experience clearing drains and pipes, we've installed thousands of sewer cleanouts in our community. We can do it all!
Does your house have a ground-level sewer cleanout? If not, you should seriously consider putting one in. This simple pipe with a cap provides easy access to plumbing professionals in the event of a clog, making drain cleaning easy and fast—and therefore cheaper. Using the ground-level sewer cleanout, we can tackle issues with power plumbing snakes and high-pressure water jetters as needed. No matter what's causing the problem, we'll get your drains flowing again! We'll even use our advanced camera technology to help make sure your drains are clear and your problems are gone for good. If you have standing water anywhere in your home that's not draining or slowly draining, please call Kevin Ginnings Plumbing Service, Inc to address the drain problem before your entire property is threatened.
Why Choose Us?
Master Plumbers
Licensed and Insured
Over 30 Years of Experience