Sump Pump Services in South Kansas City
Keep Your Property Dry with Our Superior Sump Pump Services
Flooding can be catastrophic for home and business owners. Not only do you have to evacuate excess water, you then have to repair, replace, or remove all your damaged items. Flooding takes a physical, emotional, and financial toll you want to avoid. At Kevin Ginnings Plumbing Services, Inc. in South Kansas City, we understand the effects of flooding because we've seen it time and time again, firsthand. We have extensive experience with residential and commercial flooding and offer expert sump pump installations, repairs, and maintenance to stop floodwater in its tracks. With our assistance, you can keep water out of your interior in real-time and keep your property safe and dry. Contact our company today for your service estimate and discover how we can help you.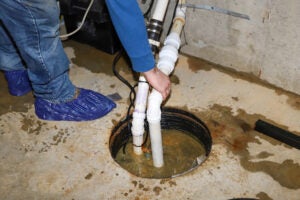 What Is a Sump Pump and How Does It Work?
A sump pump is a mechanical device that can be installed in almost any interior space to collect excess water and prevent it from spreading. Also known as a waterproofing system, sump pumps are part of a critical system that gathers and diverts incoming rainwater and naturally occurring groundwater that seeps in from underneath your structure. An electrically powered sump pump follows a simple yet effective process to help relocate excess water and prevent costly, time-consuming damage:
Water Saturation: During a storm, or flooding, water will saturate the ground next to your structure and makes its way inside. This water collects in the sump pump basin until the basin is full.
Automatic Sump Pump Operation: Once the basin collects enough water, it will automatically trigger the float switch, which starts the pump.
Dependable Pumping: The collected water is then pumped out through a connected discharge pipe and drained safely away from your structure.
Automatic Shut Off: Once the water level drops, the float switch automatically disengages and turns off the pump, safely and efficiently.
Professional Sump Pump Installation, Repairs & Services
For more than 35 years, customers have trusted Kevin Ginnings Plumbing Services, Inc. to provide the professional sump pump services they need to keep water away from their homes and businesses. Whether you need a new installation or assistance in fixing your existing system, our team can be there for you, on time and on-site, to provide the personalized experience you deserve. Our techs have the tools and expertise to work with both submersible and pedestal pumps and will always tailor their guidance and assistance to match your needs and budget. Contact us today to schedule your multi-point inspection and estimate.    
Choosing the Best Sump Pump for Your Basement
If your interior floods, a sump pump can ease the burden on you and your wallet. But what type of sump pump system is best? Knowing the differences between the two main types will help you make the right choice for your unique setup. Kevin Ginnings Plumbing Services, Inc. has a 5 year warranty on most residential sump pumps. Let us give you the insights you need to make the right decision for your property and budget:
Submersible Pump: Submersible pumps are placed underwater in your sump pump basin to more effectively collect water as it rushes in. Larger and more powerful than their pedestal counterparts, submersible pumps also pump out solids that find their way into your basin pit. This makes them more expensive but well worth the additional investment over time.
Pedestal Pump: Pedestal pumps are placed above the water and ideal in situations where the basin pit is too narrow or shallow. They cost less but produce more noise during operation and are prone to overheating and breakdown after heavy usage. NOT RECOMMENDED
Certified Basement Waterproofing Sump Pumps Technicians
Shoddy pump repairs or low-quality pump replacements can cost you more than the original fix in the end. By choosing to work with our trained, certified technicians, you opt for top-quality products, materials, and dedicated, waterproofing services. Kevin Ginnings Plumbing Services, Inc. has become a trusted name in South Kansas City, MO, for our detail-oriented work, affordable rates, and commitment to results.
Contact Kevin Ginnings Plumbing Services, Inc. Today
If you experience heavy rains and bad storms, year after year, why take the risk of costly flooding and damage? Let our experts come to your home or business and provide expert sump pump services and installations that pay off for life. Contact us today to schedule your estimate and keep water where it belongs.
Why Choose Us?
Master Plumbers
Licensed and Insured
Over 30 Years of Experience