Commercial Plumbing Services in South Kansas City
We're Here to Provide Plumbing Services for Your Business
Your plumbing system is a vital part of your business. You can't afford to lose time or money because of a malfunctioning plumbing system. Kevin Ginnings Plumbing is here to ensure this doesn't happen to you by offering commercial plumbing services in South Kansas City. Our team is here to address any plumbing issue you may have as well as to provide new plumbing installations and necessary plumbing maintenance. You can count on our team to arrive quickly and get the job done right, so you can return to your daily operations. Please contact us for additional information or to schedule a service appointment.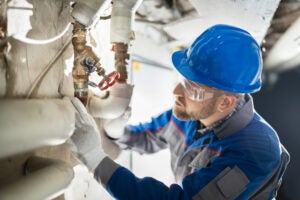 When to Call a Commercial Plumber?
Sometimes it can be difficult to know what situations require the help of a commercial plumber in South Kansas City. You don't want to wait until the problem gets worse and you're forced to pay even more for repairs. You need a reliable team to take a look at the problem right away. This means paying attention to any warning signs your plumbing system may be sending you. The team at Kevin Ginnings Plumbing is here to ensure you always have someone to turn to when your commercial plumbing system requires attention. Be sure to call us right away if you notice any of the following:
Increasing Water Bills: If you've noticed that your water bill keeps increasing without an explanation, it could mean you have a hidden leak that you are unaware of. Our team can help determine what is causing the extra water usage and fix it.
Active Water Leak: When you notice water pooling around plumbing fixtures or visible wet spots of ceilings or walls, you likely have a water leak that needs to be addressed. Our team will find the leak and find a way to repair it.
Slow Drains: Slow drains are an inconvenience and may even reduce the productivity of your team. We provide plumbing drain cleaning services to clear any commercial drain and get you back in business.
Clogging Toilets: You want your customers to have a good experience at your business, and that means providing restrooms. If your toilets are constantly clogging, our team is here to help.
Audible Running Water: Can you hear the sound of actively running water even when you don't have any fixtures on? You may have a leak behind a wall or some other hidden place. Call us to determine the source.
Collaborating to Provide Innovative Plumbing Solutions
At Kevin Ginnings Plumbing Service, we believe that when it comes to building projects with commercial plumbing needs, success comes from a cooperative working relationship between the design team and the plumbing contractor. When completing new installation projects, we collaborate with the design team to create innovative solutions that will meet the needs of the customer. Our goal is to always provide a strong management team that works with the designers during both the preconstruction and construction phases. By working together, we cut down on miscommunication and possible delays due to errors and other unforeseeable problems.
Providing Plumbing Services for All Commercial Facilities
Our commercial plumbing services are useful for any commercial facility. Our team has helped many businesses and community organizations by providing plumbing inspections, commercial plumbing repair, pipe services, installations, drain cleaning, and even emergency plumbing services. Whatever the needs of your business, we are here to help you out, offering guidance and innovative solutions to solve the problem. We'll work quickly to get the problem taken care of, so you can get back to business as usual. Our team can provide service at all of the following commercial facilities:
Schools
Retirement homes
Healthcare offices
Shopping centers
Churches
Warehouses
Offices
Small businesses
And more!
Why Choose Us for Commercial Plumbing?
When you're choosing a plumbing contractor, you want to pick a team you can trust. Don't settle for an unreliable plumber who doesn't show up or doesn't accurately address the problem. Instead, trust the team at Kevin Ginnings Plumbing to provide the service you need with a smile. Our friendly staff will treat your facility with care, ensuring we clean up after every project. Our team is the right choice to provide your business with plumbing services. Choose to work with us for all of the following reasons:
Experience: We've spent the last 50 years becoming the most trusted commercial plumbing contractor in South Kansas City. Our team is fully trained and certified to handle all your plumbing repairs, installations, and maintenance.
Timely Service: Our goal is always ready to provide our customers with the best service possible. That's why we show up in a timely manner to provide the services you need without a long wait.
Fair Pricing: We understand you have a budget, and we work to keep our prices affordable, so you don't break it! You can always count on us to deliver fair rates.
Contact Our Team Today
If you need commercial plumbing services, now is the time to call Kevin Ginnings Plumbing. We'll work quickly to address the problem, so you can get back to running your business. Contact us today to schedule a service appointment.
Why Choose Us?
Master Plumbers
Licensed and Insured
Over 30 Years of Experience