Slab Leak Repair Specialists in South Kansas City, MO
Kevin Ginnings Plumbing Service Will Fix Your Slab Leak
Kevin Ginnings Plumbing Service, Inc. is a licensed plumbing company offering comprehensive services in South Kansas City, MO, including slab leak repair. We've been in the trade for more than 35 years and have the knowledge and experience to tackle the most challenging plumbing issues in residential and commercial settings. We're available for repairs, installations, and emergency services 24/7. Contact us for help today!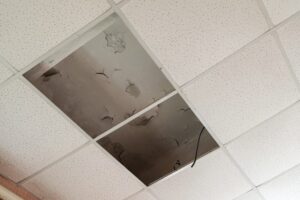 Why Do Concrete Slabs Leak?
Houses are built on concrete slabs with walls that form the basement of the home. Frequently the concrete walls have plumbing pipes encased in them or running beneath the floor. These pipes can include the main water supply line of the home's plumbing system or the waste pipes connected to the municipal sewer system. They fail for various reasons, including wear and tear from surrounding materials like gravel or adjacent lines, corrosion build-up, poor quality or improperly installed pipes, high water pressure, or shifting slabs. When these pipes crack, break, or burst, homeowners find themselves in the unfortunate predicament of dealing with a slab leak.
Common Signs of Slab Leaks
Like any leaking pipe, the warning signs of a slab leak may be obvious and immediate, or they can develop over time and appear after weeks or months. Common symptoms to be aware of if you have pipes in or underneath a slab foundation are:
Higher than usual water bills
The sound of running water when all faucets are off
Water meter counting when no water is running inside or outside
Mildew growth on carpeting or floors in the basement
Cracks in foundation walls
The unpleasant odor of sewage
Insect infestation
Repair Options for Slab Leaks
Slab leak repair costs vary depending on the situation a homeowner is faced with. Minor leaks or damage isolated to one area may not require a complete re-piping of the plumbing system. Typical remedies include:
Spot Repair – If we can pinpoint a leak to one specific location, it is possible to break through the slab and repair that one area of the pipe.
Re-Routing & Re-Piping – As the name implies, this method involves laying a new pipe that runs a different course than the original piping. We leave the original lines where they are intact while we run new pipes in more accessible areas, such as along the exterior of the concrete slab or up through the attic. It involves more plumbing work, but it is considerably less invasive than trying to access pipes inside or below concrete walls and floors. It is also the preferred method because it leaves easy access to inspect or repair pipes in the future.
Contact the Pros for Reliable Slab Leak Repair
The team at Kevin Ginnings Plumbing Service, Inc. is here to solve your plumbing problems and tackle any slab leak repair job in South Kansas City, MO for residential and commercial customers. We have over three decades of experience, and we've assembled a crew of some of the best-licensed master electricians in the area to serve you. We're available for maintenance, installations, and 24-hour emergency service, seven days a week. Contact us for assistance today!
Why Choose Us?
Master Plumbers
Licensed and Insured
Over 30 Years of Experience