Emergency Plumbing in South Kansas City, MO
An Introduction to Emergency Plumbing
No matter how much planning or maintenance you do, at some point, you will still experience a plumbing emergency. Not every plumbing problem constitutes an emergency, so it is important to be able to recognize when a problem is a true emergency. For example, a leaky faucet that keeps dripping versus a flooded bathroom demonstrates the variance in situations that may be considered emergencies. If you have an urgent plumbing problem that requires immediate attention, having an experienced plumber available is essential to prevent damage to your home.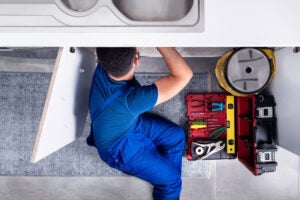 Most Common Plumbing Emergencies
There are a number of emergency situations that require immediate assistance from an experienced plumber. Some common plumbing emergencies include:
Gas line issues
Sewer line stoppages
Washing machine burst hoses
Kitchen and bath drain clogs
Frozen pipes
Major water leaks causing flooding
Leaking or broken water heater
Toilet flooding
Broken sump pump
If you find yourself in need of emergency plumbing services, having a trusted, experienced plumber on call to help is critical to preventing damage and getting a quick repair.
Choose Your Emergency Plumber Wisely
Even though emergency situations are time sensitive, it is important to consider several factors when choosing a plumber to make sure that you get the best possible service and do not turn a big problem into a bigger one. When considering who to hire for your plumbing emergency services, look at the following factors:
Check that your plumber is licensed and insured. Plumbers should have this documentation on them at all times and will help you ensure that your plumber has the qualifications to handle any problem you may be facing.
Do your research. Check online reviews and ask for recommendations. Good word-of-mouth can go a long way toward finding a plumber that will do a great job for you.
Get bids from other plumbers. Comparing prices is always a great idea. Shop around by getting bids from other plumbers in the area.
Ask about any guarantees. A plumber that offers guarantees on their work is likely a good bet.
Finding a good plumber can be nerve-wracking, especially when facing an emergency situation; however, doing your due diligence can make all the difference in the type of service you get.
Plumbing Services at Kevin Ginnings Plumbing
If you are looking for a plumber with decades of experience, look no further than Kevin Ginnings Plumbing. Our experts have more than 30 years of experience and are fully licensed and insured. Customer satisfaction is our highest priority, and we offer a variety of services in addition to emergency plumbing services. Some of our residential and commercial services include:
If you are looking for plumbing services, our experts are ready to assist you. We offer plumbing inspections and are a full-service plumbing company.
Let Us Handle Your Emergency Plumbing Repairs
Kevin Ginnings Plumbing Services has more than 30 years of experience in plumbing. We serve clients throughout Kansas and Missouri in the Kansas City area. We are available for 24/7 emergency services, so call us today if you have an urgent situation. We are master plumbers, fully licensed and insured. Contact us for an appointment or in an emergency. We are ready to help.
Why Choose Us?
Master Plumbers
Licensed and Insured
Over 30 Years of Experience