Premier Plumbing Fixture Repair Services in South Kansas City
Rely on Our Residential Plumbing Services
At Kevin Ginnings Plumbing, we understand that a home's beauty is truly in the details, so take pride in the appearance of your space's interior. Oftentimes, locating just the right materials to achieve a desired look or design can be challenging. Whether it's the gracious curve of a faucet spout, claw feet on a vintage-style tub, molding on a custom cabinet, or just the right knob to open it with, we can help. If you want to add a master bath suite, freshen up your powder room, decorate your dream wine cellar, or expand your kitchen, trust in our skilled professionals to get the job done to your exact specifications! We work with you and your building or design professional to create a one-of-a-kind space that is a unique reflection of you.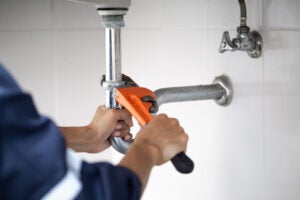 Signs You Need Professional Plumbing Fixture Repair
Clogged drains can be an all-too-common nuisance. But there's a difference between a clogged drain that you can handle on your own, and one that needs professional drain cleaning. We understand that homeowners often wish to just handle things on their own if possible, but severe clogs or drastically damaged plumbing fixtures will need the expert repair of our trained team members. Give Kevin Ginnings Plumbing a call if you notice any of the following signs:
Strange odors coming from your plumbing fixtures, which could be an indication of sewer gases infiltrating your pipes
Gurgling sounds emitting from your sink
A handle that gets stuck or squeaks when turned
A dripping or leaking faucet
Rust on your faucet or the water pouring from it
We'll Fix Your Broken Plumbing Fixtures
It's important to take pride in the look and feel of your home or business. One way you can do this is by ensuring your plumbing fixtures are up-to-date and in proper working order. At Kevin Ginnings Plumbing Service, we are available to assist with all your residential or commercial plumbing fixture repair or replacement needs. If you suspect a problem with your toilet, sink, faucet, tub, or any other fixture, we can diagnose the problem and make all the necessary repairs. Our goal is to keep your entire plumbing system running smoothly, efficiently, and economically for the long haul.
Why Choose Us for Plumbing Fixture Repair?
With so many plumbing companies to choose from, you might wonder, why Kevin Ginnings Plumbing? In addition to our experience and expertise, we provide high-quality customer service to South Kansas City, MO. We have all the inspiration you need to make your ideas come to life. From fabulous faucets and fixtures to tantalizing tiles and tops, we've got it all. We even offer full custom cabinetry and gracious hardware, as well as a comprehensive collection of nifty necessities for your kitchen, bath, bar, and general home space. We can install all styles of faucets, fixtures, cabinetry, designer tile, stone, and decorative hardware from the world's leading manufacturers. Allow us to provide you with prompt, professional service!
Contact Your Local Professionals Today!
If you're in need of plumbing fixture repair services, call Kevin Ginnings Plumbing right away. We'll work quickly and efficiently to address any plumbing problem or complete any installation. Highly-skilled plumbing professionals are licensed, certified, and well-equipped to provide you with premier plumbing fixture repair services. Take advantage of our fast, effective, and affordable plumbing solutions today! Contact us to schedule a service appointment.
Why Choose Us?
Master Plumbers
Licensed and Insured
Over 30 Years of Experience