Residential Plumbing Services in South Kansas City
Kansas City Plumbers You Can Trust in Your Home
At Kevin Ginnings Plumbing, we offer state-of-the-art residential plumbing services to the South Kansas City, MO area. If you're having a plumbing issue or need a new plumbing installation, we can help. Our experienced team handles every job quickly and efficiently, from start to finish. We do this to ensure that you can seamlessly return to your day-to-day activities. If you're looking for reliable residential plumbing services, look no further. Our team has extensive knowledge and will happily answer any questions or address any concerns you might have. If you have a product that needs repair or replacement, contact us to schedule a service appointment with our professionals.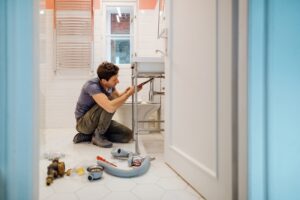 Exceptional, Residential Plumbing Services in Kansas City
We'll come up with a residential plumbing plan that's perfect for you. Our skilled plumbers are equipped to handle any residential plumbing repair you may require at your Kansas City home. We promise to offer timely service and high-quality customer care. From clogged and leaking toilets to malfunctioning sewer lines, we can do it all! Some of the residential plumbing services we offer include, but are not limited to:
Why Choose Us for Residential Plumbing?
With over 30 years of experience and expertise, the team at Kevin Ginnings Plumbing Service is highly qualified to tackle all your residential plumbing needs. Never settle when searching for an experienced plumbing professional. We will accurately address any plumbing problem you might be dealing with. No matter how complex, our team can effortlessly handle the job. Our team is fully trained and certified to handle all your plumbing repairs, installations, and maintenance. When you partner with Kevin Ginnings Plumbing, you can expect superior plumbing services, exceptional customer service, and timely repairs or installations.
Contact Us Today!
If you're in need of residential plumbing services in South Kansas City, call Kevin Ginnings Plumbing. We'll work quickly to address any plumbing problem you might have, ensuring you can get back to your day-to-day activities in no time. Contact us today to schedule a service appointment.
Why Choose Us?
Master Plumbers
Licensed and Insured
Over 30 Years of Experience