About Trenchless Pipe Services in South Kansas City
Comprehensive Backflow Prevention Device Services
Backflow results from a sudden reversal of water flow within a plumbing system. When this occurs, faucets and other water sources may be unable to provide clean, potable water, leaving you with a potentially hazardous contamination situation. Fortunately, Kevin Ginnings Plumbing in South Kansas City is here to help with our backflow prevention services.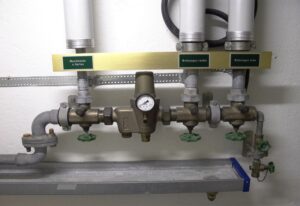 What Is Backflow?
Backflow is a hazardous plumbing occurrence when water flow changes directions within a plumbing system. This causes contaminated water to redirect and pollute the property's clean water supply. Backflow can be the result of an abrupt drop in water pressure or other changes within the plumbing system flow. In any case, it's unsafe and must be promptly addressed.
What Happens When Backflow Occurs?
When a plumbing system is hindered by backflow, non-potable water, including toilet water or water from irrigation systems, gets mixed into the supply of clean water. This contaminated water may be filled with chemicals, bacteria, and other harmful contaminants. Backflow can harm your plumbing and result in health complications, waterborne diseases, injuries, and property damage.
The Importance of Backflow Prevention Device Services
Protecting your property's water supply from the dangers of backflow is essential. A backflow prevention device is vital to homes and businesses to promote optimal safety and health. These systems serve to mitigate the risk of contaminated water infiltrating your potable water in the event of sudden drops in water pressure or issues with plumbing cross-connections.
How to Prevent Backflow
The first line of defense in preventing backflow is trusted backflow prevention services with Kevin Ginnings Plumbing. We offer several trusted backflow system design solutions that include a valve that automatically shuts in the event of reversed water flow. This protects the plumbing line from contaminated water until sufficient water pressure is restored.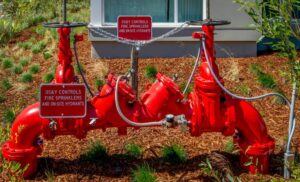 Backflow Repair
If your property is equipped with a backflow system that has failed to pass testing, look to Kevin Ginnings Plumbing for comprehensive backflow repair services. We are equipped to remedy backflow repair needs no matter the make, model, or issue you are facing, ensuring we get your home or business back to standards so your water remains safe.
Backflow Installation
If you're ready to prevent backflow, Kevin Ginnings Plumbing is here to provide the backflow installation you need. We will begin by inspecting your plumbing system to curate the most effective plan of action for your property. We handle all the water shut-off requirements and permitting so you can experience optimal protection without hassle.
Backflow System Design
Our backflow system design services are tailor-made solutions created based on your home or business's unique needs. With years of experience, we understand the ins and outs of a secure, reliable, and long-lasting backflow prevention system. Rely on us for personalized service that checks all the boxes to keep your property safe, healthy, and free of water contamination.
Choose Kevin Ginnings Plumbing
With over 38 years of time-honored experience, Kevin Ginnings Plumbing is here to accommodate all your residential and commercial backflow prevention and plumbing system needs. Backed by a track record of excellence, our licensed and highly skilled team is equipped to take on minor to complex cases. Rely on us for unrivaled services that bring value to your property.
Let's Discuss Your Backflow Prevention Services
Mitigate the risk of contaminated water, health hazards, and discomfort in your home or business with trusted backflow prevention services. From backflow repair to system design and installation, Kevin Ginnings Plumbing is your backflow prevention specialist. Contact us today to schedule your service and safeguard your property with ease.
Why Choose Us?
Master Plumbers
Licensed and Insured
Over 30 Years of Experience