Water Heater Maintenance at Kevin Ginnings Plumbing
An Introduction to Water Heater Maintenance
Your water heater is an important appliance in your home, as it makes sure that your water gets hot. Installation by a licensed plumber is important for making sure that your water heater is hooked up properly, and basic maintenance needs to be done to make sure it runs correctly and efficiently. When it comes to water heater installation and maintenance, a good plumber can help you understand what needs to be done to keep your water heater in top working order. Some basic maintenance tasks you can do at home include:
Adjusting the temperature
Flushing the water heater
Draining and cleaning the tank
Checking the drain valve
These and other basic tasks should be done regularly in order to keep your water heater in good working order. Even with the basic tasks, you can also benefit from a water heater maintenance service if you need help maintaining your water heater.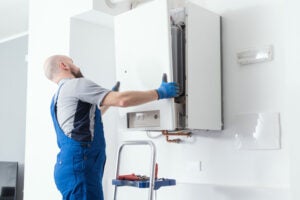 Safety First
If you are working on your water heater maintenance tasks yourself, always follow proper safety procedures. Working with a gas or electric water heater requires some safety measures to protect yourself and your home. These include:
Checking the pressure valve
Extinguishing the pilot to the water heater (gas) or shutting off the electricity source prior to working on the water heater
Waiting until the tank is completely full before turning on the heating element to prevent burnout
If you have any questions or concerns about working with your gas or electric water heater, always contact a professional plumber.
Tankless Water Heater Maintenance
If you have a tankless water heater, you may need a tankless water heater maintenance service. Tankless water heaters provide a constant supply of hot water rather than waiting for the tank to fill up and then heat. Tankless heaters are eco-friendly and require less maintenance than traditional systems. Tankless water heater maintenance requires yearly flushing to remove mineral deposits. If you have a tankless water heater or want to install one, a licensed plumber can help you make sure the installation is safe and effective and keep your tankless water heater running in top condition.
More to Consider for Water Heater Maintenance
There are other considerations when planning for water heater maintenance. Some factors to consider about maintaining your water heater properly are:
Leaks can be prevented by flushing the tank regularly and replacing the drain valve as needed.
Insulating pipes can help prevent heat loss and save you money.
Calibrating the thermostat can conserve energy and save you money.
Inspecting the anode rod every three years can help keep proper function and prevent corrosion.
If you have any questions or issues with these maintenance tasks, contact a licensed plumber to help you with your water heater maintenance.
Plumbing Services at Kevin Ginnings Plumbing
In addition to our water heater and tankless water heater maintenance services, our full-service plumbing company offers a variety of comprehensive services. Our plumbers are fully licensed and qualified to handle:
Pipe and drain leaks
Sump pump repairs
Waterline installations
Water softener installations
Plumbing system inspections
Your satisfaction is our number one priority, and our reputation speaks for itself when it comes to high-quality plumbing services. We also offer 24/7 emergency services.
Contact Kevin Ginnings Plumbing in South Kansas City, MO
If you are looking for a full-service, licensed plumber with an excellent track record for outstanding customer service and results, look no further than Kevin Ginnings Plumbing. Our team of friendly professionals is standing by to provide you with excellent care for all of your plumbing needs, from installation to maintenance. Contact us today for a quote or consultation.
Why Choose Us?
Master Plumbers
Licensed and Insured
Over 30 Years of Experience