South Kansas City's Tankless Water Heater Specialists
Imagine having hot water whenever you like and lower utility costs at the same time. It's possible with today's state-of-the-art tankless water heater systems. By utilizing heated coil technology, homeowners can have an almost endless supply of hot water no matter how many people are in the house. Best of all, tankless water heaters are extremely energy efficient and will pay for themselves after only a couple of years. Our tankless water heater systems are designed to last for decades, are easy to use, and come with a rock-solid warranty you can rely on. When you need fast, effective, and energy-efficient hot water at a moment's notice, you can't go wrong with the tankless water heater solutions from Kevin Ginnings Plumbing Service, Inc. Contact us today to schedule a no-obligation estimate.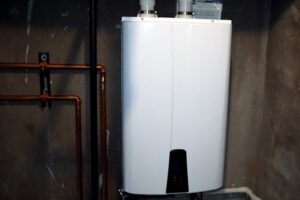 How tankless water heaters work
Tankless water heaters heat water directly without the use of a storage tank. When a hot water tap is turned on, cold water travels through a pipe into the unit. Either a gas burner or an electric element heats the water. As a result, tankless water heaters deliver a constant supply of hot water. You don't need to wait for a storage tank to fill up with enough hot water; however, a tankless water heater's output limits the flow rate. Typically, tankless water heaters provide hot water at a rate of 2 to 5 gallons (7.6 to 15.2 liters) per minute. Gas-fired tankless water heaters produce higher flow rates than electric ones. An even higher capacity of hot water can be achieved by installing separate tankless systems for bathroom and appliance use. We offer a wide range of tankless systems that can give your home the hot water you need when you want it. Our rates are competitive and we'll ensure you're more than satisfied with the final results.
The benefits of tankless water heaters
Tankless water heaters have been growing in popularity with homeowners for many years. Tankless water heaters offer many advantages over traditional tank systems. These advantages include:
A small and compact design
An unlimited amount of hot water
Energy-efficiency and eco-friendliness
A longer lifespan than traditional tank systems
Less maintenance than traditional systems
We can help you select a tankless system that's right for your home and give you an accurate estimate on the cost. All our tankless systems are produced by top-quality manufacturers and we stand behind all our installations for your peace of mind. Upgrade your standard of living and your family's ability to enjoy hot water when they want it. Call us today.
Our comprehensive plumbing services
While we're known far and wide for our quality water heater installation services, we also offer a wide range of plumbing repairs and maintenance to meet all your needs. Our plumbers have over 30 years of experience in the field and we're fully licensed and insured to handle:
Pipe and drain leaks
Water heater repairs
Water softener installations
Sump pump repairs and more
We've built a reputation in the region for quality plumbing services at fair prices and we'll strive to ensure you're fully satisfied with our work.
Why Choose Us?
Master Plumbers
Licensed and Insured
Over 30 Years of Experience