Trusted Water Leak Repair Services South Kansas City, MO
Call Kevin Ginnings Plumbing Service for Leak Repair
Homes and buildings have extensive plumbing systems to carry water to the necessary faucets and appliances while leading waste into the local sewer. If any part leaks, Kevin Ginnings Plumbing Service, Inc. is equipped to locate, diagnose and fix issues in South Kansas City, MO fast and efficiently. Repairing water lines is an essential part of our services because it saves our customers from higher bills on wasted water while protecting their homes and businesses from property damage. We're available for emergency services 24-hours a day, seven days a week. Contact us for leak repair service today!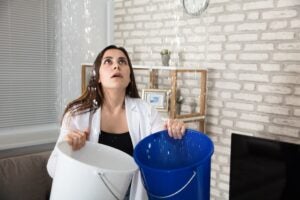 Common Types of Leak Repair
Our team responds quickly to water leaks. Our goal is to diagnose the cause efficiently and provide you with an affordable leak repair with minimal disruption to your daily routine. Common types of leak repair we encounter daily include:
Pipe Leaks – These can be in obvious and hard-to-see areas.
Basement Water Leaks – Water on your basement floor can be from leaking overhead pipes or a broken water heater.
Bathroom Water Leaks – There is a lot of plumbing in bathrooms and, therefore, a lot of potential for leaks from bathtubs, sinks, drains, and toilets.
Kitchen Leaks – Like the bathroom, kitchens are susceptible to faucet and drain leaks. But dishwashers and refrigerators add the additional possibility for messy water leaks.
Exterior Water Leaks – Leaks can happen at the mainline coming into your home and external hose spigots.
State-of-the-Art Water Leak Detection Equipment
Water leaks are unpredictable and can happen for various reasons, including corroded pipes, blockages, cracks in old piping, or bursting when pipes freeze in the winter. Kevin Ginnings Plumbing Service, Inc. uses modern technology for locating in-home and underground water leaks. Our video inspections allow us to view and detect water leaks in all kinds of pipes and waste lines as first steps to try to limit cutting into or taking apart walls, ceilings, or floors.
Why Do Water Leaks Happen?
Homes and buildings are equipped with complex plumbing systems to carry water in and waste out of the property. However, with so many pipes hidden behind walls, in ceilings, and under floors, leaks will often go unnoticed for a bit until they start to show visible signs. As a property owner, it's essential to know what these signs are. Keep an eye out for:
Mildew growth
Higher than usual water bills
Dripping sounds in ceilings or walls
Cracks in the foundation
Hot or wet spots on floors
Can I Prevent a Water Leak in My Home?
While pipes provide a reliable water supply function, they can eventually wear down or be exposed to risks like any building materials in a home or commercial property. You might be wondering what some of the best ways to protect your property from an inevitable leak may be. Consider these steps:
Routine pipe inspections – If you live in an older home, having our licensed technicians periodically inspect your pipes is an excellent preventative measure.
Main water shut-off – Know where the main shut-off valve is in your home. Have one installed if you don't already? Turning it off is critical in stopping a water leak if you have a broken or cracked pipe.
Pay close attention to your bill – A spike in usage for no reason is a sure sign of a leak somewhere.
Insulate pipes – Pipes exposed to cold temperatures in the winter can be insulated to help protect them against freezing.
Schedule Water Leak Detection Services
If you suspect you may have a water leak, contact Kevin Ginnings Plumbing Service, Inc. for professional water leak detection in South Kansas City, MO. We're available for emergency services 24/7, so contact us today for diagnosis and leak repair.
Why Choose Us?
Master Plumbers
Licensed and Insured
Over 30 Years of Experience