Sewer Line Services in South Kansas City
Let Us Optimize Your Drainage with Expert Sewer Line Services
Blocked sewer lines can cause expensive water backups in your home. Whether from tree roots or a solid blockage somewhere in your drain lines, clogged sewers left unchecked can bring wastewater and sewage back into your interior and cost you thousands in repairs and replacements. Kevin Ginnings Plumbing Services, Inc. in South Kansas City, can help you prevent catastrophe with residential sewer line services that do more. Our local company offers full sewer pipe repairs, replacements, and new installations to optimize your drainage and keep your interior dry. Our technicians have the right training, professional certifications, and hands-on experience to work with almost any sewer line system and provide superior solutions for any sewer line issue. Call us today to schedule your service or installation estimate.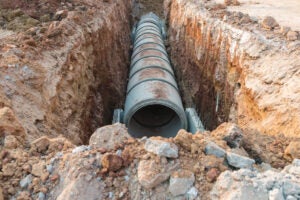 Choosing the Right Sewer Repair & Replacement Contractor
When you need expert repairs or installations for your sewer lines, many companies out there can complete the work you need. But how do you know whom to choose to fix your issues and provide the ideal experience from start to finish? If you live in South Kansas City, MO, your choice is simple: Kevin Ginnings Plumbing Services, Inc.! Our technicians can offer you the sewer line expertise and professional assistance our competitors can't match. Working with us, you know you are in the best of hands for all your sewer line services and professional installations, but you get access to a host of additional advantages such as:
Full Rooter Services: Is your kitchen or laundry line sluggish? Our professional rooter and auger services will clear your sewer line of tree roots and get water flowing once more.
State-of-the-Art Video Inspections: We use the latest, state-of-the-art video inspection technology to identify problems, whether it is a clogged sewer drain or a broken sewer line, and fix it fast.
The Most Advanced Technology: Our company doesn't stop at video inspections. We utilize advanced supplemental technologies, such as electric sewer line location, trenchless snaking devices, HydroJet equipment, custom slab cutting, and underground boring, to handle all your sewer line issues.
30 Years of Experience: Our company has perfected our techniques and customer service over the last three decades. We know what kind of experience you expect from the best, and we use our knowledge and the latest industry methods to deliver every time.
Sewer Line Video Inspection Services
There is no sewer line solution as effective as seeing the problem close-up. With our sophisticated video inspection services, you get a front-row seat to the destruction of your costly sewer line headache. Our trained techs locate your sewer blockage fast and use our specially designed tools to eliminate it and get your drain flowing again. We can even make a color DVD detailing our findings or simply email the file to you! Contact us to schedule your services.
Top Benefits of Video Sewer Line Inspections
By opting for a video sewer line inspection, you can preserve your lawn and save money. Our company highly recommends this service for heavily populated residential areas and the additional benefits inspections offer both home and business owners. These include:
No Destruction to Your Lawn and Property
Quiet Operation
Simultaneous Sewer Line Damage Inspection
Expedited Services that Save You More
Contact Kevin Ginnings Plumbing Services, Inc. today
Problem sewer lines are not a DIY project. When you need them professionally cleared or installed for your home or business, put your trust in the company with the most advanced technology and more than 30 years of industry experience. Call us today and get your personalized estimate for trusted sewer line service.
Why Choose Us?
Master Plumbers
Licensed and Insured
Over 30 Years of Experience