Water Heater Services Offered in South Kansas City
Trust Our Professional Plumbers for Water Heater Services
Without realizing it, we rely on hot water every day to clean our clothes, wash our dishes, or enjoy a piping hot shower in the middle of winter. Thus, keeping up with routine water heater inspections and maintenance ensures you never take a cold shower unless it's on purpose. The most responsible thing you can do for your home and water heater is to have Kevin Ginnings Plumbing Service, Inc. provide our regularly scheduled maintenance services. Throughout our years of service in South Kansas City, we have noticed most water heater replacements happen because of an emergency. Our hot water heater maintenance services safeguard you and your wallet from these types of emergencies and ensure you have hot water exactly when you want it.
No matter the age of your water heater or if it's gas-powered or electric, our team has the tools and knowledge to help get it running again in no time. We handle water heater installations and repairs, including all the routine inspections and tune-ups in between so you can enjoy as many years of use from your investment as possible. We also offer guarantees on all our work to protect you and your water heater. If there is ever an issue with services provided, simply call, and we will have our team out to make the necessary adjustments.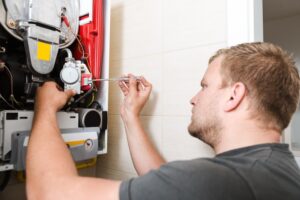 What to Expect from Our Water Heater Services
Our team comes to your home with over 30 years of knowledge and experience in the field. We also ensure they are licensed and insured to give you peace of mind while they perform the necessary water heater services. They can work on and install any make or model of water heater you may own. Dedicated to their craft, they also stay on top of the most recent innovations in the industry to make sure your unit is as efficient as possible. When you need help, simply give us a call and schedule your consultation. Our staff works with you on quick solutions to match your budget. We understand the difficulties that arise from not having a properly functioning water heater, which is why we aim to help you quickly.
Water Heater Services from the Kevin Ginnings Plumbing Pros
When you aren't getting the hot water you need, it's time to call the professionals at Kevin Ginnings Plumbing Service, Inc. We inspect your unit, find the issues, and give you a diagnosis quickly paired with an estimate for repairs. Our experience allows us to work promptly to ensure your water supply is healthy and safe. From installation and basic repairs to providing regularly scheduled maintenance throughout the year, we have you covered with expert water heater services. Signing up for our regular maintenance visits helps keep you protected from surprise issues, premature water heater replacements, and save monthly by continuing your unit's effective performance.
Signs You Need Water Heater Services
Your water heater can often get overlooked until it's too late, and you need an extensive repair or have to replace the unit with a brand-new model. Kevin Ginnings Plumbing Service, Inc. wants to help by giving you some helpful hints and clues as to when you should call our team for an inspection.
Leaking from Unit: A sure sign you should give us a call is when you begin to notice pooling water either from the unit or surrounding the unit. We can give it a thorough inspection to discover where the leak is coming from and either patch or give you other options for repairs.
Odd Noises: Most water heaters will make noises as they operate, but banging, clanking, squealing, and other weird noises are a sign there is something wrong with your unit. These sounds can mean multiple issues such as leaks, holes, plumbing problems, and more. Our experience working on these units helps us quickly find what's creating the noise to stop it.
Discolored Water from Tap: When you turn on your shower or go to the kitchen, you should see clear running water from the showerhead and faucet. If it is any other color, you have an issue in your water heater. There could be rust developing in the tank, or you could have an issue in your plumbing system. No matter where the problem is occurring, our experts will find it and quickly repair it to give you clean water again in no time.
Hot Water Doesn't Last Long: If you turn on your hot water and it reaches the desired temperature but then quickly fades to lukewarm or cold water, give Kevin Ginnings Plumbing Service, Inc. a call. We'll get you longer lasting hot water, so you can get all the dishes clean and enjoy a hot shower. These types of repairs will also help save you money because your unit will not have to work as hard, which will help it become more energy efficient.
The Kevin Ginnings Team is Ready to Help You Today!
The trusted professionals at Kevin Ginnings Plumbing Service, Inc. are prepared to help you with any and all water heater services you may need. Whether it's a quick repair, major replacement, an installation, or scheduled maintenance visit, our plumbers come prepared with the right tools and experience to get your hot water flowing once more. Give us a call at the first sign of trouble!
Why Choose Us?
Master Plumbers
Licensed and Insured
Over 30 Years of Experience