Plumbing Inspection Services in South Kansas City, MO
Allow Our Experts to Inspect Your Home's Plumbing
When you need a professional plumbing inspection in South Kansas City, MO, turn to the expert plumbers at Kevin Ginnings Plumbing. Our experts can provide a plumbing camera inspection if you're in the process of buying or selling a home. Our team of plumbing inspection technicians will inspect your home and determine if any repairs are required, and then provide you with an accurate estimate for those repairs. Our experienced plumbers will write up their findings so you can present our recommendations and estimates to any other parties involved. Our thorough home plumbing inspections include checking all fixtures for leaks and all drain lines and water lines. Our plumbing inspection services are non-invasive, and we're proud to offer sewer camera inspections. Learn more and get in touch with us to schedule your plumbing inspection.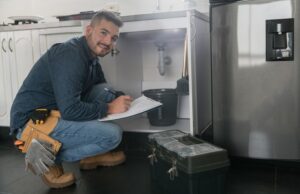 Why Plumbing Inspections Are Important
In many cases, homeowners are unaware of what may be going on with their plumbing. Whether you're experiencing problems or not, a plumbing inspection can find potential issues before they become more significant. Check out some of the reasons why plumbing inspections are essential:
Protecting Your Home – Minor plumbing problems can result in severe structural and property damage to your home. These issues are challenging to locate and can quickly become more significant. A plumbing inspection can prevent these problems from occurring in the future.
Saving You Money – Even small leaks can translate to costly repairs. In some cases, your personal belongings and keepsakes will be damaged by these leaks. An affordable plumbing inspection will cost much less than needing to have your floors, drywall, or ceilings replaced.
Providing Peace of Mind – No one wants to discover a leak in their home as it can be pretty unsettling. Our plumbing professionals can locate and repair leaks quickly with a routine inspection. This will give you peace of mind knowing your home's plumbing system has been checked out thoroughly.
How Often Should You Have a Plumbing Inspection?
You don't need plumbing inspections very often, but they are a necessary service. Most professionals recommend a plumbing inspection for your residential plumbing at least every two years. If your home is more than 40 years old and still has the original plumbing, we recommend an annual plumbing inspection.
Who Should Perform My Plumbing Inspection?
The average homeowner won't know what to look for when it comes to a plumbing inspection. Your neighborhood handyman also won't have all the tools and expertise to perform a thorough plumbing inspection. The professional plumbers at Kevin Ginnings Plumbing are experienced and licensed. We've completed several plumbing inspections throughout the years and can perform any necessary repairs once we inspect your plumbing.
The Benefits of Plumbing Inspections
A preventative plumbing inspection can offer you several benefits. Check out some of the reasons to schedule a plumbing inspection for your home:
Water Flow – Plumbing systems that are well-maintained offer improved water flow. Water flow can suffer from leaks or mineral buildup.
Lifespan – Routine plumbing inspections can ensure your pipes are free of leaks and clogs to extend the lifespan of your system.
Water Bills – Everyone wants to save money, but wasting water from leaking pipes or running toilets will result in high utility bills.
Air Quality – Leaks from pipes, faucets, or other plumbing fixtures can result in mold and mildew growth which contributes to poor indoor air quality.
Repairs – Routine plumbing inspections and maintenance can catch minor issues before they become more significant and costly repairs.
Efficiency – Replacing faulty plumbing fixtures with newer technology can make your system more efficient by using less energy and offering better water flow.
Schedule Your Plumbing Inspection Today
The team at Kevin Ginnings Plumbing offers plumbing inspections for homeowners in South Kansas City. Our team can check out your conventional or tankless water heater, gas lines, sewer lines, slab leaks, water filtration systems, appliance hook-ups and draining, backflow, water pressure regulators, and more. Contact us today to schedule your plumbing inspection.
Why Choose Us?
Master Plumbers
Licensed and Insured
Over 30 Years of Experience