Call Us for Waterline Repairs in South Kansas City
A Reliable Plumbing Contractor When Your Need It Most
When you need the help of a plumber, you want to know that you've hired a team you can trust. Someone who will provide reliable service when you need it most. Kevin Ginnings Plumbing is that team. We can complete all types of plumbing installations and services, including water line repair in South Kansas City. Our team has years of experience providing both residential and commercial plumbing services for homes and businesses throughout the city. Whenever you call us, you can count on the fact that we will show up in a timely manner and provide the repairs you need. Contact us today to schedule service at your home or commercial facility.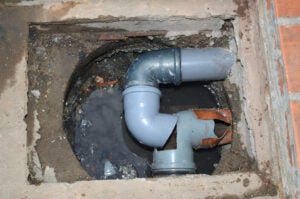 No matter how you slice it, water leaks are bad news. They not only cause a major inconvenience, they can also potentially damage your structure. A burst pipe or even a slow leak can allow water to seep into floors, walls, and ceilings, damaging drywall and rotting wood if exposed for an extended period of time. You don't want to allow this to happen at your home or business, and Kevin Ginnings Plumbing is here to help ensure it doesn't. We want to get to your water leak as soon as possible and keep damage to a minimum with our quick action and expertise. We can provide all of the following water line services:
Waterline repairs
Replacement of damaged pipes
Redirection of the flow of your current piping system
And more!
Don't Ignore the Warning Signs
If you have a water leak, you'll likely see signs. It's important that you do not ignore these signs, even if they don't seem like a serious problem. The sooner you call a professional to address the issue, the less likely you will be to face serious damage. Not to mention, the repair is often cheaper, and you'll have time to contemplate your next move, rather than be forced to make a rash decision in the face of an emergency pipe burst. Be sure to call us if you see any of the following warning signs:
Increasing water bills
Puddles in your yard
Unpleasant smelling or strangely colored drinking water
Reduced water pressure
We're Here to Fix Waterline Leaks
Water lines rarely leak or burst on your schedule, meaning no matter when it happens, it's going to be a surprise. Luckily, our plumbers are available 24 hours a day for emergencies. When you call us with an active water leak, our expert technical representatives will first help you troubleshoot the problem, directing you to shut off your water to stop the water flow into your home. Then, we'll send out our plumbers, so they can locate, diagnose, and fix the problem. We're here for you 24 hours a day, 7 days a week to remedy any issues and get you back to a dry, normal life. Our technicians come fully equipped with the latest parts, tools, and supplies, helping to maximize our ability to solve problems in a single visit.
We Use Trenchless Technology to Repair Pipes
Traditionally, fixing water line problems required digging up your yard to find the leak and access the pipes for repair. Plumbing technology has come a long way, though, and Kevin Ginnings Plumbing Service is now able to complete trenchless water line repair. If possible, that means no digging to fix your water line when you hire our team to take care of the job. You'll find that this creates less of a hassle for you and helps to preserve your yard and landscaping. Our trenchless repair has multiple benefits, including:
More Economical: Excavation of your yard is an added cost. When we complete trenchless repair, you won't have to worry about this additional fee.
More Convenient: You won't have to bother with the inconvenience of a torn-up yard or driveway with a trenchless repair. We'll leave your property intact.
Less Environmental Disturbance: There's no reason to disturb the environment when you don't have to. Our trenchless repair means you can leave your yard, trees, and flowerbeds exactly as they were.
Contact Our Team for Water Line Repair & Replacement
Whether your water line has a fixable leak or is in need of total replacement Kevin Ginnings Plumbing is the team to take on the job. With 50 years of experience providing South Kansas City with the best plumbing services, we know exactly what to do to address your problem. We're ready to take on any plumbing project for both residential and commercial properties. Don't hesitate to call us any time of the day or night to handle your plumbing emergencies. For less severe plumbing problems, you can call our office and schedule a service appointment.
Why Choose Us?
Master Plumbers
Licensed and Insured
Over 30 Years of Experience