Professional Water Heater Repair in South Kansas City
Kevin Ginnings Plumbing Service, Inc. Returns Your Hot Water
Homeowners and property managers in South Kansas City must consider the health of water heaters within their spaces to keep themselves, their families, and their residents safe. Kevin Ginnings Plumbing Service, Inc. is the team to call when you are facing issues with the temperature of your water. In your home or business, a nonfunctioning water heater can be a catastrophe. No more will South Kansas City need to worry about showering with cold water! Water heaters get repaired often, but only replaced following a major event, usually a flood of water around the appliance. The plumbing experts at Kevin Ginnings Plumbing Services can often repair or replace the broken components without having to install an entirely new unit. We aim to save you money by increasing your water heater's efficiency. You can also count on our regularly scheduled maintenance and servicing options to help ensure your water heater remains functional with high energy efficiency and dependability. These services also help prepare you for a replacement instead of it surprising your wallet.
For more information on our water heater repair services, contact Kevin Ginnings Plumbing Service, Inc. today! A member of our team will be more than happy to provide details about our business, our trained plumbers and technicians, our affordable rates, and any other questions you may have. We look forward to helping you keep your water heater, drains, and plumbing working like new.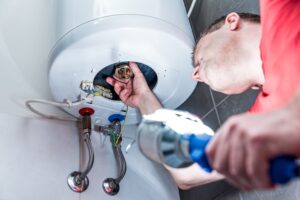 Trusted Water Heater Specialists
When you think of a water heater, you may only focus on being able to take a hot shower. This appliance helps with so much more, though. It keeps your dishes clean and can help keep your home and office warm. At Kevin Ginnings Plumbing Services, we've seen it all in our 30 years of water heater repair. We train our staff to stay up-to-date on all the latest water heater innovations to better service our community. No matter the make or model of your water heater, rely on us to assist with getting it repaired quickly. Our plumbers have extensive experience working with all units; no matter the age of your water heater, our team can help. They also come prepared to get the job done right the first time. We won't waste your time or money with multiple trips back and forth from our headquarters.
Signs You Need Water Heater Repairs
Your water heater is an often-overlooked appliance, and many people don't realize they need repairs until it's too late, and you have to replace the whole unit. Your modern life can grind to a halt if the hot water in your home is not working, so pay attention to these warning signs and call Kevin Ginnings Plumbing Service, Inc. right away to get the water heater repairs you need quickly:
Irregular Water Temperatures: If you notice your water gets hot, but then cold and then back to warm, you may have issues with your hot water heater. This irregularity can happen in your kitchen sink or worse, in your shower. Have our plumbers come out to check on the issue to get consistent hot water when you need it most.
Discolored Water from Tap: Your water should be crystal clear, no matter the temperature. Due to pressure, it may be hazy, but after it equalizes, you should have colorless water in your glass. Rusty, brown, red, or any other color poses a threat to your safety. Call Kevin Ginnings right away to receive our water heater repairs and return your water to normal.
Hot Water Doesn't Last Long: Does your water reach the desired warm temperature, but go cold sooner than usual? Kevin Ginnings Plumbing Service, Inc. is here to ensure your water stays as you want for as long as you need it. Enjoy showers, clean all your dishes, and more once we have finished with our water heater repairs.
Strange Sounds from Tank: Every water heater will make some noise, but once you begin to hear banging, clanking, and other odd hums or thuds, it's time to call the professionals. Our plumbers find the exact issue and deliver appliance-saving repairs to keep it running longer.
Noticeable Leaks Around Tank: Having leaks around your water heater is a sure sign it's time to call on our services. We get your water heater repaired quickly to prevent you from having to purchase and install a brand-new unit prematurely. These leaks not only hurt your water heater but can also strain your wallet with higher monthly bills.
Repair Before Replacing!
Maintaining and repairing your current water heater instead of replacing it outright has many benefits. Of course, in some cases, replacement is necessary, but it is always more expensive than hiring a trusted and professional team to inspect the unit and repair it instead. Often, keeping up with regularly scheduled maintenance and inspections can significantly extend the life of your water heater. At Kevin Ginnings Plumbing Services, we use the best plumbers, tools, and parts to ensure your water heater repair gets done right the first time.
Call on Kevin Ginnings Plumbing Service, Inc. Today!
When you need plumbers who you can trust in the South Kansas City area, there is one team to call, Kevin Ginnings Plumbing Service, Inc. We have the tools, experience, and knowledge to provide your home or property with the necessary water heater repairs. Our master plumbers also come licensed and insured to protect your home or office when we perform our services. Give us a call today and schedule your next water heater repairs and keep the hot water flowing.
Why Choose Us?
Master Plumbers
Licensed and Insured
Over 30 Years of Experience