Professional Re-Piping Plumbing in South Kansas City, MO
Ask Kevin Ginnings Plumbing Service, Inc. About Re-Piping
A fantastic way to upgrade the plumbing in your home is with plumbing re-piping by Kevin Ginnings Plumbing Service, Inc. in South Kansas City, MO. Pipes are manufactured with materials to provide decades of reliable water flow; however, over time, due to corrosion or freezing temperatures, lines can fail and require replacement. With over three decades of plumbing experience, our team of licensed and insured master plumbers can provide you with reliable services to keep water contained within your pipes and avoid damaging your property.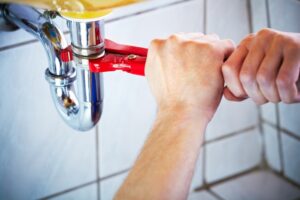 How Long Does It Take to Re-pipe Plumbing?
Re-piping means replacing the existing plumbing pipes in your home or building. It could be just a portion of the lines, or it could be the entire system. If you have a burst pipe or a pipe that leaks from a crack, it may not be necessary to replace the whole system of pipes. However, if the structure is very old and you have rust-colored water or low pressure or suspect there could be cracks in various places, then it may be necessary to re-pipe all of the plumbing. The amount of time it takes to re-pipe depends on the number of pipes being replaced and the complexity of the job.
Benefits of Re-Piping
Hiring a good plumber is critical to getting quality work. When you hire Kevin Ginnings Plumbing Service, Inc., you'll receive reliable services from licensed and insured technicians. Our re-piping offers many benefits, including:
Better water pressure
Code-compliant plumbing
Reduction in plumbing leaks
Rust-free water
Peace of mind
Affordable Re-Piping by Kevin Ginnings Plumbing Service, Inc.
Re-piping the plumbing in your home can include any parts of the various pipes that make up your home's water and drain lines. Think about the many feet of pipe it includes. There are water pipes that run to every faucet and hose fixture in the home. There are pipes to and from the water heater. Each sink, bathtub, and toilet have a drain that connects to the sewer line. Depending on what type of system heats your home, you may have plumbing lines for that too. We're available for emergency services 24-hours a day, seven days a week. With more than 30 years of experience, we are well-equipped to work with any pipe materials, including:
Chromed Copper
PEX
Chromed Brass
Cast Iron for Waste Lines
Chlorinated Poly-Vinyl Chloride (CPVC)
Poly-Vinyl Chloride (PVC)
Galvanized Iron
Schedule an Estimate for Plumbing Re-Piping
Re-piping your home's plumbing comes with noticeable benefits. Kevin Ginnings Plumbing Service, Inc. has the experience and knowledge to complete jobs professionally in South Kansas City, MO, and we offer discount specials on many of our services to save you money. Unlike a clogged drain or broken sump pump, issues with your pipes may not be obvious. But if you notice low water pressure, uneven hot water, rust-colored water, or stains on ceilings, it's a good idea to call us for an inspection. Ignoring problems will only allow them to build up and get worse over time. When we're done, you'll enjoy improved water flow and potentially reduced water bills with our plumbing re-piping services. Contact us today to learn more. We are available for emergency services 24/7!
Why Choose Us?
Master Plumbers
Licensed and Insured
Over 30 Years of Experience