About Backflow Prevention Services in South Kansas City
Trusted Trenchless Piping Services
Traditional sewer pipe services are known to be disruptive and invasive. Fortunately, those days are behind you with Kevin Ginnings Plumbing and our trenchless pipe services. From trenchless sewer pipe installation to repairs, we provide South Kansas City homeowners with prompt and efficient solutions that restore your plumbing and bring total peace of mind.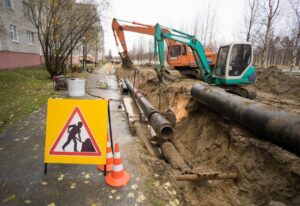 Understanding Trenchless Sewer Pipe Repair
Trenchless sewer pipe repair is a cutting-edge solution to remedy damaged sewer pipes without having to dig up your landscape or property to access the underground fixture. In contrast, this method uses trenchless technology that enables us to repair inefficiencies via small access points. This process reduces the project timeline without compromising on quality, cost-effective work.
What Causes Sewer Pipe Problems
Several different factors can bring on the need for sewer pipe repair. The ways a sewer pipe becomes damaged include the following:
Age-related wear
Accumulation of build-up
Tree root intrusions
A result of the freezing and thawing of the earth
Nearby construction or earth movement
Insufficient pipe design, layout, or installation
Tree Root Intrusions
Tree roots thrive on moisture. As such, when sewer pipes have minor leaks or compromised areas, tree roots will gravitate toward them to access a water source. Early intervention of tree roots with preventative maintenance and cleanings can blast away minor concerns. However, tree root intrusions can lead to sewer pipe replacement when left to develop.
Age-Related Damage
Older sewer pipes made of clay or cast iron will inevitably break down with consistent use. With years of usage, these pipes become subject to a wealth of build-up and debris, which leads to deterioration, cracks, or scale. Newer, trenchless sewer pipe installation uses more durable materials, such as epoxy and plastic, reducing the risk of premature deterioration.
How Trenchless Sewer Pipe Repair Works
Kevin Ginnings Plumbing uses state-of-the-art trenchless sewer pipe repair equipment and technology that enables us to restore the function of your sewer pipe without wreaking havoc on your home or landscape. Depending on the nature of your sewer pipe damage, we have two time-honored techniques: pipe lining or bursting.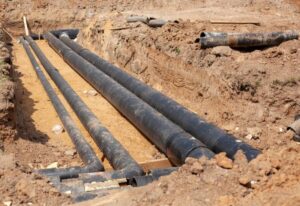 Trenchless Pipe Lining
Trenchless pipe lining is a sewer pipe repair method that involves placing a new pipe within the existing pipe. This process uses a flexible epoxy material that we meticulously apply to the inner portions of the compromised pipe to adhere to a protective liner. The result of pipe lining is a durable, corrosion-resistant pipe that seamlessly restores the full function of your sewer line.
Trenchless Pipe Bursting
For new, trenchless sewer pipe installation, we use our pipe bursting method. This involves using a special wired attachment placed within a new pipe that we carefully maneuver through the existing pipe. This process carefully breaks down the existing pipe pieces while simultaneously replacing the pipe with a durable, long-lasting replacement.
The Benefits of Trenchless Sewer Pipe Services
When you opt for trenchless technology to alleviate your sewer pipe problems, you benefit from an array of advantages. Some of the advantages of trenchless sewer pipe services include:
Modern, effective technology with high-quality materials
Long-lasting, reliable results
Cost-effective service with reduced labor times
No damage and minimal disruption to your home
What You Can Expect from Our High-Quality Services
When you rely on our trenchless sewer pipe services, you can expect a full-stack service. Upon an inspection of your current sewer pipe, we will provide you with expert recommendations best suited for your home. Backed by experience and a track record of success, we work diligently to accommodate your needs.
Choose Kevin Ginnings Plumbing for Trusted Results
Kevin Ginnings Plumbing takes pride in offering industry-leading plumbing services that bring value and comfort to your home or business. We are dedicated to the highest standards of quality and care, providing each customer with a personalized service. Rely on us for premium craftsmanship, timely service, and competitive pricing you can feel good about.
Contact Us to Restore Your Sewer Pipe
Don't wait until your sewer pipe can no longer perform, look to Kevin Ginnings Plumbing for trusted trenchless sewer pipe services that check all the boxes. For an experienced team of knowledgeable workers that prioritize your comfort and peace of mind, contact us today to schedule your service. We look forward to serving you.
Why Choose Us?
Master Plumbers
Licensed and Insured
Over 30 Years of Experience