Water Heater Installation in South Kansas City
Trusted Team of Plumbers Get Your Water Heater Installed
Having an effective and efficient water heater in your home is essential to your safety and health. This system gives your household hot water for showering and warm water to get the dishes done, but it can also help keep your home warm in the winter, depending on your setup. When this system goes down for good, it's wise to have someone on your side who has experience with how they operate to help you select the best model for your space. Our plumbers have over 30 years of experience not only with water heater installation but with repair and maintenance services and will help you choose your new unit. We aim to get you the most energy-efficient make and model to have your brand-new unit work for you and not the other way around.
And, once your new water heater is installed, you can count on us to help with regularly schedule maintenance and repairs to keep it running for years to come. All of our technicians also come licensed and insured to give you an extra sense of relief when hiring us for help. We also back up all of our water heater work with guarantees to safeguard you and your unit even further. Kevin Ginnings Plumbing Service, Inc. is the professional team you want to work with when your water heater kicks the dirt. Don't hesitate to call for our services today!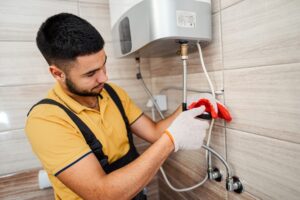 Experience Where It Counts When Looking for a Water Heater
Whether you are looking for a tank-type or tankless water heater, the professionals at Kevin Ginnings Plumbing Service, Inc. have you covered. We have sold and installed all major models, including hydrojet, self-cleaning, and energy-efficient water heater options. Whatever the size and functionality, our team of experts has the resources and expertise to get everything you need. Our entire team is well versed in the different makes and models to help our customers in South Kansas City find the right water heater for their homes, depending on budget and property size.  
Signs You Need a Water Heater Installation Instead of Repair
It can be difficult to tell whether your water heater needs a simple repair, or it is ready to be replaced. And if you don't work with the right team, you could get poor advice for a premature replacement. The team at Kevin Ginnings Plumbing Service, Inc. offers transparency with our process. We will always consider your budget when the need for a water heater installation is required over repairs. We also will treat this as a last option when diagnosing the problem. Below are considerations we take into account when deciding to replace your current water heater system:
Age of the Unit: Most water heater systems last up to 15 years with regular maintenance and minor repairs to keep it running efficiently. If you have not taken advantage of these water heater services, you can cut the life of your unit in half, leading to a premature replacement and installation.
Monthly Water Bill Amount: The amount of your water bill can help us get a better look at how efficiently your unit is working when heating the water for your home or office. Based on the amounts and usage, we can help you find a better water heater for installation when it comes time to replace. Thanks to modern innovations and our experience, you can have a water heater which saves you money instead of always costing you.
Cost of Repair: A widely followed rule when it comes to water heater installation vs. getting your old one repaired involves the cost. If you are quoted a price higher than half the cost of a brand-new unit, then you should go ahead and opt for the water heater installation. While you may only see the price tag, it will help you save more money in the long run by going with the replacement.
Frequency of Professional Help: If you have to call Kevin Ginnings Plumbing Service, Inc. regularly for repairs, we will suggest going for a replacement. Having our professionals come to the home on multiple trips ends up costing you more money to keep a barely working water heater functioning. This also hurts its efficiency, which costs you more on your monthly bills.
Rely on Kevin Ginnings Plumbing for Trustworthy Advice
We aim to help all residents in the best way possible when they need assistance with a brand-new water heater installation. We begin by offering advice on whether or not you even need the replacement. Once you decide you do want to start looking for a new unit, you can rely on our knowledge and experience to find the right fit and the right price. Call us today and let us begin with an inspection of your current water heater and a discussion of your needs and wants.
Why Choose Us?
Master Plumbers
Licensed and Insured
Over 30 Years of Experience