Trusted Boiler Services in South Kansas City
Unapparelled, Affordable Boiler Repair Services
Kevin Ginnings Plumbing in South Kansas City, MO provides unmatched, affordable boiler repair services and compassionate customer support. Our professionals can perform quick and efficient boiler installation and replacement for those whose boiler system is simply too far gone for repair. However, when repair is still an option, rest assured we'll have your boiler system back up and working in no time. Our licensed professionals are well-versed in residential, commercial, and industrial boilers. So, whether you're in need of boiler repair, replacement, or installation, we've got you covered. All you'll have to do is sit back and relax while we get things back in proper working order.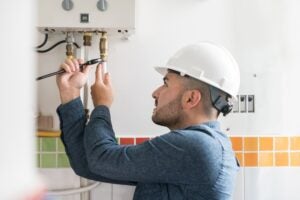 Premier Boiler Repair & Installation Services in Kansas City
If you've been searching the web for "boiler services near me," your search is finally over. Kevin Ginnings Plumbing provides quality boiler work at fair and affordable prices. Our licensed technicians are trained to cover all phases of residential, commercial, and industrial boiler system repair and installation. We've repaired and installed boilers in homes, apartments, schools, hospitals, office buildings, and industrial facilities, as well as completed piping installation and certified welding. Below, we've listed some of the related services we offer our valued customers:
Providing Boilers for Heat or Process
Services High- and Low-Pressure Boilers
Piping Installation Services
Certified Welding Services
How Can My Boiler System Become Damaged?
Unfortunately, there are a wide range of things that can cause your boiler system to become damaged. If your boiler heater is burning too much fuel, something is probably malfunctioning. This may cause your boiler to be unable to produce enough heat or hot water. Additionally, if you don't maintain the well-being of your boiler, it can start producing carbon monoxide, which can negatively affect one's health. Don't wait until your boiler is leaking or making strange noises before having a professional come and service your system. Routine maintenance on your boiler system is highly recommended. At minimum, your boiler should be serviced at least once annually to ensure optimal functionality.
Why Choose Us for Boiler Services?
When you hire the professionals at Kevin Ginnings Plumbing for boiler heater services, you can expect quality customer service and expertise that exceeds your expectations. Our licensed repairmen are well-versed in residential, commercial, and industrial boiler repair. The expert eye of our team can ensure you have a boiler you can rely on, day in and day out. If you're having an emergency with your boiler, give us a call and we'll come as quickly as possible to your property to address the issue at hand. Don't wait, especially when there's a problem! Give your local professionals a call and put your worries in our care.
Contact Kevin Ginnings Plumbing Today!
If your boiler is damaged and needs repairs, don't wait for things to get worse! It's imperative that you have a reliable boiler in proper working order. Call the professionals at Kevin Ginnings Plumbing today. We offer affordable, quality services, so you never have to worry about your boiler again, not so long as we're on the job! Whether it's repairs, installation, or replacement, we can help. Contact us today.
Why Choose Us?
Master Plumbers
Licensed and Insured
Over 30 Years of Experience